Our Company has a responsibility to our clients to provide a high standard of service that will exceed all expectations.
Our Core philosophy has as its objective, the achievement of total building management and employee satisfaction.
To this end, Our Company. works very hard at keeping the line of communication open at all times. Our goal is to create a partnership with our clients that will deliver the highest standard of housekeeping service possible, at a reasonable price, which will return a reasonable profit to our shareholders.
Our Company. is committed to service. Beginning with the selection and training of capable staff at all levels, the focus of each task we undertake is very simple, client satisfaction. Over 50 combined years of experience in the provision of housekeeping services has taught us that the best way to achieve this goal is:
- Provide on-going training for staff at all levels, including management.
- Establish a schedule of regular communication with our client, including the use of Daily Log Books, Quality Assurance reports, monthly meetings between the client and the T.A.G. Management Team Leader. These meetings serve as the basis for maintaining a continuity of information as well as a check on results achieved.
- Hire the best and then make certain each employee understands precisely what is expected of her/him.
Customer Service
Our Company understands that innovation, creativity and flexibility in customer service are essential to our success. Our Philosophy
Cutting Edge Technology
We continuously research productivity enhanced tools and equipment that allow our staff to better manage the cleaning of your facility and allow us to provide these services at a cost that meets your budget. Our programs are the most effective and innovative in the industry. We are the only cleaning contractor that has an in-house information technology department who's main objective is to implement and administer programs designed to meet your needs. We have a vested interest in earning your business by demonstrating that we are equipped and have the expertise that sets us apart from our competitors.
Our Process
Our Cleaning Process has proven over time that it imporves quality of the clean.See"Our Process" for more info. Our quality assurance software programs actually make a difference to the end result. Read more about our Quality Control programs.
Zone Cleaning vs. Team Cleaning
Staff & Equipment Requirements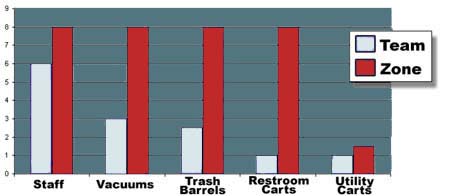 CHART CAPTION:
In the typical application of Team Cleaning, six team cleaning specialists (2 vacuumers, 2 light-duty task persons, 1 restroom person and 1 utility person) can do the work of eight zone cleaners—and do it faster and better.